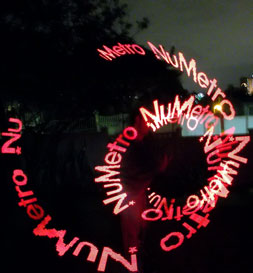 Electric Glow Juggling and POV Visual Graphic Poi Technical Requirements
Items marked * only apply to the Electric Glow Juggling Show
All other items apply to the Electric Glow Juggling Show, Roaming Electric Glow Juggling and POV Poi
Performance space / venues

*An absolute minimum of 3m x 3m clear, flat, unobstructed performance space and a minimum of 3m vertical clearance is required across the entire show performance area.

POV Poi spinning requires a minimum of 3m x 3m clear performance space and ideally 3m vertical clearance.

For nightclub events, and other very crowded venues, the 3m x 3m performance space must be cordoned off by the client, to ensure there is sufficient performance space available.

3m vertical clearance is also required if your performer is a stilt walker.

*Please note that for the show the audience must be seated in front of the performance space.

*If your venue has less than 3m vertical clearance, it may be possible for Tom to perform a bespoke, slightly shorter show. In cases where the 3m vertical clearance is not available, we must be informed of the exact available vertical clearance, at the time the booking is requested, as a special tailor made show will need to be rehearsed by Tom.

*Please also note that all Electric Glow Juggling Show bookings, AND all bookings which include a personalised POV POI message, must be made, and confirmed with payment, a minimum of 15 days prior to the event date. This is because we need to schedule time to program the POV Poi and rehearse the show. In the event that we do accept a last minute booking for this show, or for a personalised POV POI message, (i.e. the booking is made, or confirmed, within 14 days of the event date), we will charge an additional R750 on top of the quoted rate, as a last minute booking fee. This is to compensate for time spent after hours, programming the equipment and rehearsing the show.

Please note that if our performer / representative of Big Top Entertainment arrives at the venue and the required space is not available, or our technical requirements / terms and conditions have not been fully adhered to, we may not be able to perform. This will be treated as a cancellation and our fee will remain payable in full.
Venue lighting

Electric glow juggling / POV Poi requires as little light as possible. The darker the venue, the better. It is not possible to perform electric glow juggling or POV Poi in a brightly lit area.

Please note that we do not supply any lighting equipment, lasers or smoke machines as part of the entertainment.
POV Poi

It is now possible to add a personal message, brand statement or simple logo/picture to a POV Visual, graphic poi performance. This service is offered free of charge for show bookings.
It is also available for roaming electric glow juggling bookings where POV poi is included, but at an additional fee.

Messages can contain up to 8 simple full colour images (depending on the size of the images.)

Custom messages can also contain text in one colour. 
However, please note that EACH WORD MUST BE A MAXIMUM 10 CHARACTERS IN LENGTH and shorter words look most effective.

Please note that only simple images are possible, as we shrink the image down to a low pixel resolution, before loading it on to the POV Poi. Images may lose some definition, but we will program the best rendition of your picture possible with our equipment.

IMPORTANT: All POV poi messages / logos / pictures are subject to approval by Big Top Entertainment. Message / logo / picture requests MUST be submitted at the time as your booking form. We will then advise if your request is possible. If your request is not possible, we will suggest / use an alternative.
Stage backdrop

*The show works best with a dark or black background.
Electric Glow Juggling – Strobing

Please note that Electric Glow Juggling / POV Poi only works as entertainment when performed at night, or in a darkened venue. It can also only be performed outdoors when it is completely dry.

If booking Electric Glow Juggling / POV Poi, please be aware that this entertainment uses strobing juggling equipment, which can affect people who are sensitive to flashing lights or have conditions such as epilepsy.

Upon booking Big Top Entertainment the promoter/client/ agent accepts full responsibility for informing the audience, venue, suppliers and any other parties involved with or attending the performance, or rehearsals, of this fact.
Sound/P.A. system

*The Electric Glow Juggling Show requires a P.A. System that is adequate for the size/space of venue, as music is played during the show.

Big Top Entertainment does not supply sound or P.A. systems. The system must be supplied by the Client, with a competent sound operator. Big Top Entertainment will supply the show music to the client's sound operator on an MP3 player or CD.

We do not supply music for roaming bookings.
Set up

*Please also ensure you advise us of any activities that are taking place on the stage prior to the show.

Please also take into account our space requirements when organizing any other activities on the stage. You will be responsible for ensuring that the required space is provided.
Backstage

*Our show performer will require a backstage area, with a minimum of 3m vertical clearance, to warm up before the show.
Outdoor performance

In the interest of safety and due to the nature of the electronic equipment used, our entertainers are only able to perform the Electric Glow Juggling Show, or use electric glow juggling / POV Poi equipment if the conditions are completely dry.

The Performers will make the best of any given situation, but please bear in mind that it may be necessary to postpone, curtail or cancel the event in extreme situations. In the event of adverse weather conditions it is the client's responsibility to provide a suitable alternative venue. If a suitable alternative venue is not provided then the fee will remain payable in full. The suitability of a venue must be approved by Big Top Entertainment. (Adverse weather conditions could include, but are not limited to, wet weather and strong wind).
Agent, promoter, third party bookings

For clients of Big Top Entertainment who are booking on behalf of a third party, it is your responsibility to ensure that you have passed the technical requirements / terms and conditions on to the third party.
Recording/Photographs

It would be appreciated if copies of any recordings made or photographs taken of Big Top Entertainment's shows/performance/rehearsals could be supplied to Big Top Entertainment for their use in marketing and/or advertising.
Are you looking for an event venue?
For great venue ideas check out https://durbanpartyvenues.co.za